A Heavy duty D Ring Shackle is a u-shaped, load-bearing device designed to be used with a removable pin. Shackles can be used in a number of different rigging and load securement applications to connect different types of lifting slings, chains, or ropes to an object or to each other.
Shackles can be used in a variety of different applications, including:
Rigging

Towing or pulling

Lifting

Hoisting

Tie-down
The Parts of a Shackle.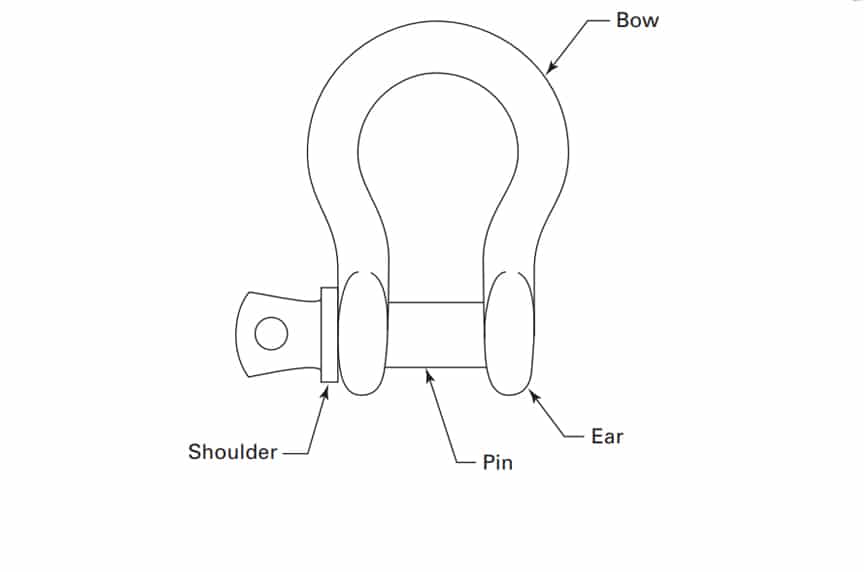 Bow – the curved portion of the shackle body opposite the pin—often referred to as the bail, body, dee, or bowl

Ears – portion of the shackle body that supports the shackle pin, where the pin screws in. 

Pin – a steel bolt made to span the two shackle ears

Shoulder – the part of the pin that makes contact against the ear when the pin is fully threaded or engaged
How to Use D-Ring Shackles. 
Heavy Duty D-ring shackles or Screw pin shackles are quick and easy to connect and disconnect so they are convenient for rigging applications or when slings and other hardware are often changed out. Screw pin shackles are not recommended for permanent or long-term installations.
Be aware that a live line, such as a sling being used, can cause the screw pin to be rotated or twisted which can cause the pin to unthread itself. Always tighten the pin prior to each lift. To avoid the pin from rotating or loosening due to vibration, mousing can be used as a secondary method of securement. 
Mousing - Mouse or Mousing (screw pin shackle) is a secondary securement method used to secure screw pins from rotation or loosening. Iron wire is looped through the hole in the collar of the pin and around the adjacent leg of the shackle body with wire ends securely twisted together. 
When using a screw pin shackle, the screw pin threads shall be fully engaged, tight, and the shoulder should be in contact with the shackle body.
Where you can find Heavy Duty D-Ring Shackles.
At RingBinderDepot find ¾ inch Heavy Duty D-Ring Shackles made of forged steel. These shackles can be used as bumper shackles for towing purposes, as snatch straps, snatch blocks, tree savers, and more. 
With a 30 day return policy, RingBinderDepot lets you return your products if it doesn't meet your satisfaction.